Unique / Addendum Remedies
Individual Remedies not in the Narayani range.
The following combinations are used at the The College of Practical Homeopathy Student Clinic (London) and work very well on their own and alongside the Narayani combinations.
These are now available in Medicating Potency or ready to take Pillules. Please click on the + SIGN and than the relevant icon.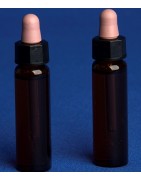 Subcategories
<p>The following combinations are used at the The College of Practical Homeopathy Student Clinic (London) and work very well on their own and alongside the Narayani combinations</p> <p>Medicating Potency for the Practitioner</p>

<p>The following combinations are used at the The College of Practical Homeopathy Student Clinic (London) and work very well on their own and alongside the Narayani combinations.</p> <p>Ready to take Pillules</p>