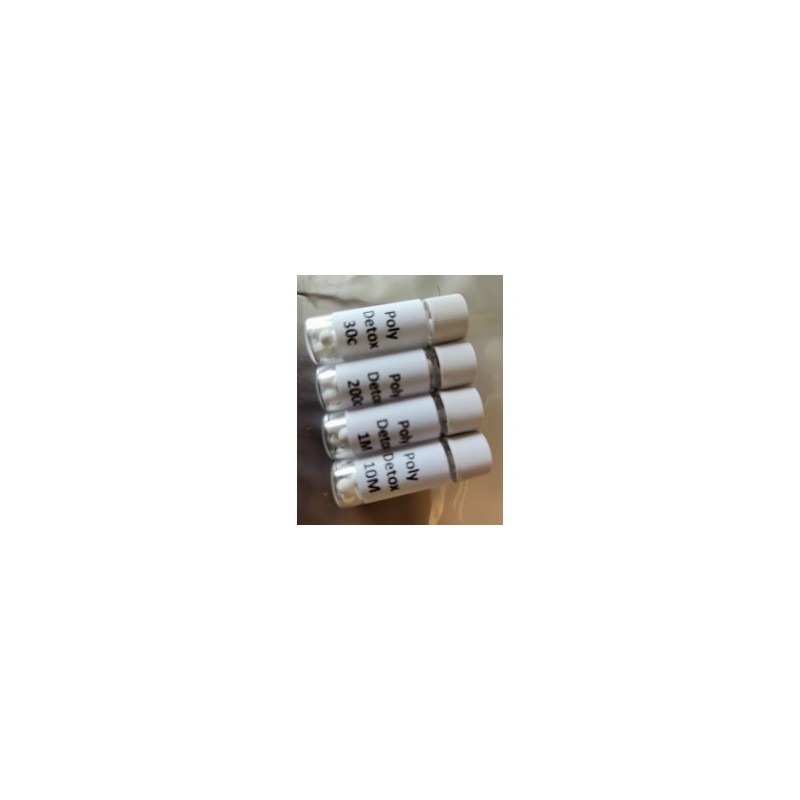  
Poly Cytokines
In Homeopathy we look at the phenomenon of "Never been well since" and most often it is a toxin such as a heavy metal, antibiotics, the birth control pill or other allopathic drugs.
The detox protocol will be shared on purchase of the remedies.
The detox remedy is available in 30c, 200c, 1M and 10M.  All 4 potencies are needed for the protocol.
We recommend that the complete detox protocol be done, which includes the above mentioned, PolyBowel ( to clear the gut of toxins) and a Herbal Detox Support. The complete detox protocol will be shared on purchase and is available from the dropdown menu.
For advice and information please
contact us
.
Disclaimer
These products are not intended to diagnose, treat, cure or prevent any disease.
Dosage Abbreviations
TDS - 3 Times a day BD - 2 Times a day OD - Once a day 6D - 6 Times a day
Security policy
If you wish to view prices and order, please SIGN IN and register. To select currency press $ sign
Delivery policy
We aim to ship orders of single remedies/ sets within 24 /96 hours of receiving a confirmed order
Refund/Return policy
Once order has been shipped we do not accept returns. In the event there is damage due to the Postal/Courier service we will send out a replacement at our expense.